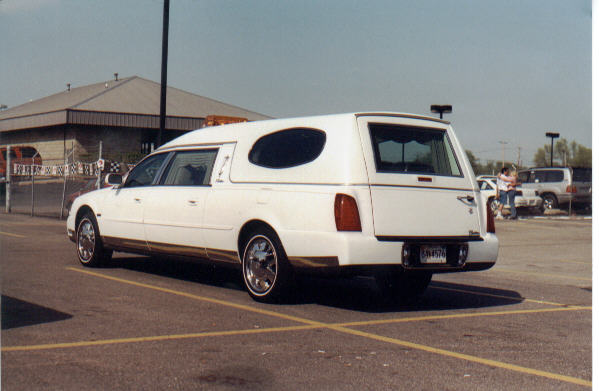 Curt Debaun's unique oval window Eagle Cadillac hearse
In Memorium:
During the past year we are saddened to announce the passing of three of our Chapter members.
Jim Hasse of Indianapolis passed away. Jim was active member and attended many of our Indiana functions. As he requested, his last ride was in his 1982 Superior Buick Hearse followed by his 1958 Lincoln H&E Limo.
For those who know Jim he will be missed dearly. RIP
George A. Bergman passed away September 29th, 2002 at the age of 84. A lifelong resident of Warren, George owned and operated the H. Brown & Son Funeral Home for many years, and also operated emergency ambulance services in the area up until 1973. George was an early member of our chapter, being the first to respond to our initial mailing to all the Indiana PCS members. His 1972 Miller-Meteor ambulance was used for his services. George will be greatly missed.
John Keel passed away unexpectedly on December 25th 2002 at the age of eighteen. John was one of the major contributer to the Minute Man Monitor and one of the most knowledgable members this club has ever seen. Eric Chapman's 1973 Superior Cadillac Combination was used for the service.